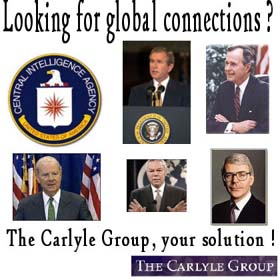 Halliburton and Bechtel's triumphs in Iraq have been chewed over for months. Less well chronicled is the profiteering of the Carlyle Group, a company with ties that extend directly into the Oval Office itself.
Even Pappy Bush stands in line to profit handsomely from his son's war making. The former president is on retainer with the Carlyle Group, the largest privately held defense contractor in the nation. Carlyle is run by Frank Carlucci, who served as the National Security advisor and Secretary of Defense under Ronald Reagan. Carlucci has his own embeds in the current Bush administration. At Princeton, his college roommate was Donald Rumsfeld. They've remained close friends and business associates ever since. When you have friends like this, you don't need to hire lobbyists..
Bush Sr. serves as a kind of global emissary for Carlyle. The ex-president doesn't negotiate arms deals; he simply opens the door for them, a kind of high level meet-and-greet. His special area of influence is the Middle East, primarily Saudi Arabia, where the Bush family has extensive business and political ties. According to an account in the Washington Post, Bush Sr. earns around $500,000 for each speech he makes on Carlyle's behalf.
One of the Saudi investors lured to Carlyle by Bush was the BinLaden Group, the construction conglomerate owned by the family of Osama bin Laden. According to an investigation by the Wall Street Journal, Bush convinced Shafiq Bin Laden, Osama's half brother, to sink $2 million of BinLaden Group money into Carlyle's accounts. In a pr move, the Carlyle group cut its ties to the BinLaden Group in October 2001.
One of Bush Sr.'s top sidekicks, James Baker, is also a key player at Carlyle. Baker joined the weapons firm in 1993, fresh from his stint as Bush's secretary of state and chief of staff. Packing a briefcase of global contacts, Baker parlayed his connections with heads of state, generals and international tycoons into a bonanza for Carlyle. After Baker joined the company, Carlyle's revenues more than tripled.
Baker and Carlyle enjoy another ace in the hole when it comes to looking out for their Saudi friends. Baker prevailed on Bush Jr. to appoint his former law partner, Bob Jordan, as the administration's ambassador to Saudi Arabia.
Carlyle and its network of investors are well positioned to cash in on Bush Jr.'s expansion of the defense and Homeland Security department budgets. Two Carlyle companies, Federal Data Systems and US Investigations Services, hold multi-billion dollar contracts to provide background checks for commercial airlines, the Pentagon, the CIA and the Department of Homeland Security. USIS was once a federal agency called the Office Federal Investigations, but it was privatized in 1996 at the urging of Baker and others and was soon gobbled up by Carlyle. The company is now housed in "high-security, state-of-the-art, underground complex" in Annandale, Pennsylvania. USIS now does 2.4 million background checks a year, largely for the federal government.
Another Carlyle subsidiary, Vought Aircraft, holds more than a billion dollars in federal contracts to provide components for the C-117 transport plane, the B-2 bomber and the Apache attack helicopter. Prior to 2001, Vought had fallen on hard times. Just before the 9/11 attacks, Vought announced that it was laying off more than 1,200 employees, more than 20 percent of its workforce. But business picked up briskly following the airstrikes on Afghanistan and the war on Iraq.
In 2002, Carlyle sold off its biggest holding, United Defense. The sale may have been prompted by insider information leaked to Carlucci by his pal Rumsfeld. In early 2001, Carlyle was furiously lobbying the Pentagon to approve contracts for the production of United Defense's Crusader artillery system, an unwieldy and outrageously expensive super-cannon. Rumsfeld disliked the Crusader and had it high on his hit list of weapon systems to be killed off in order to save money for other big ticket schemes, particularly the Strategic Defense Initiative.
So the men behind the Carlyle Group drift through Washington like familiar ghosts, profiteering off the carnage of Bush's disastrous crusades, untroubled by any thought of congressional investigation or criminal prosecution, firm in the knowledge that the worse things get for the people of the world, the less secure and more gripped by fear the citizens their own country become, the more millions they will reap for themselves. Perpetual war means perpetual profits.
Carlyle Group and Seven Group Holdings have refinanced 1.85 billion Australian dollars (US$1.91 billion) of debt associated with equipment hire companyCoates Hire, three people familiar with the situation told Deal Journal Australia.
Carlyle and Seven, which each own around 46% of Coates alongside management following the company's 2008 de-listing from the Australian Securities Exchange, have extended the facility for two years through July 2015, one of the persons said.
More than two-thirds of the banks involved in the existing senior debt syndicate — including largest holder Westpac Banking Group, ANZ Banking Group, Sumitomo Mitsui Financial Group Inc. and Mizuho Financial Group Inc.  — have agreed to extend the two tranches of debt, originally due to expire in July 2013 and January 2014.
Irrevocable new commitments have been received from the likes of Barclays, HSBC Holdings and National Australia Bank, the person said.
Subordinated debt held by the likes of Goldman Sachs Group Inc. is being replaced by senior debt, the person said.
Global investment banks have also aggressively supported the deal, but due to interest of existing lenders and new commercial banks, their funds haven't been required, two of the people said.
The group, which operates across Australia, Europe and Asia-Pacific, recorded around A$1.3 billion in revenue for the 2012 fiscal year, and posted growth in earnings before interest, tax, depreciation and amortization, or Ebitda, of around 30%.
AGSM's Masters of Business speaker series gives studnets an insight into how people think at the top of the businesses they hope to join
AGSM MBA 2012 candidates Jason Mihelic and George Crones talk about the star business leaders the school has hosted so far as part of its Masters of Business lecture series.
The first such person was Ian Thomas, President of Boeing Australia. Ian was the inaugural speaker at the series' kick off on March 31st. His graciousness in accepting the invitation was only outmatched by his wit, wisdom, and the wealth of knowledge with which he at once entertained and informed the audience.
The next Masters of Business speaker to come to campus was Simon Moore, head of country operations for the Carlyle Group, one of the largest private equity firms in the world. Simon similarly has a diverse background that includes ten years spent working in the investment banking sweatshops of New York. It was there that Simon became acculturated into the industry while working at JP Morgan, among other financial institutions.
THE Carlyle Group has been showing Australia a bit of love of late.
Following the private equity group's recent investment in a Brisbane property development, Applus, a Spanish inspection and certification company owned by Carlyle Group, said yesterday that it has bought Australian company John Davidson & Associates (JDA) to boost its presence in Australasia.