Baxter earned its No. 87 spot on AllBusiness.com's Top 100 Corporate Criminals of the 1990s list thanks to its guilty plea to dealing with the Arab League (12). The conspiracy lasted nine years, federal officials said – but it was just one of many "mistakes" Baxter would become acquainted with.
Baxter also take 6th place in Dr Joseph Mercola's 'The 6 Top Thugs of the Medical
World… As Ranked by "Top 100 Corporate Criminals" List' (14)
Being one of the worst pharmaceutical companies in an industry dominated by other scumbags is really some coup, notwithstanding the fact that pharmaceutical companies cause the deaths of hundreds of thousands of people each and every year and over 2 million further adverse, hospitalised reactions to drugs annually (15,16). You guys should be up in front of the International Criminal Court for crimes against humanity. Oh wait…YOU ARE!!! (5).
In 2004 Mexico's Federal Competition Commission voted 4 to 1 to fine 6 companies $11.6 million for conspiring to raise prices of meds sold to a social-services agency. Those fined include Eli Lilly, Laboratorios Cryopharma, Probiomed, Fresenius Kabi Mexico, Baxter and Laboratorios Pisa (17). The meds involved were insulin and injectable saline solutions. Each drugmaker was fined $1.7 million and several Baxter hot shots who 'directly participated' in the schemes were also fined $1.6 million each (17). Over the border Baxter has been involved in prolonged litigation after being accused of fraudulently overcharging Medicaid, the US health programme that provides a safety net for the nations' poorest families. In 2006 the State of South Carolina's Attorney General sued Baxter for fraudulently manipulating the prices of Medicaid and State Health Plan prescription drug claims and overcharging South Carolina taxpayers over $40 million dollars (18). However, 'The Palmetto State' wasn't the only one to find its healthcare systems ripped-off by Baxter; they were named in the AWP (average wholesale price) federal court multi-district litigation proceedings in Boston, Massachusetts (19,20). The District Court of Massachusetts charged that 'Baxter has been investigated by the United States Department of Justice, Department of Health and Human Services Office of Inspector General, the Attorneys General of several states, and the Committee on Commerce of the House of Representatives. These investigations confirm that Baxter has engaged in a deliberate scheme to inflate AWPs for many or most of its drugs. A Baxter document made public as a result of the congressional investigation entitled, "Confidential – Baxter Internal Use Only," acknowledged that: "Increasing AWPs was a large part of our negotiations with the large homecare companies". (19). Baxter also settled price-fixing allegation cases in the amount of $8.5 million with Texas after being caught with their hand in the cookie jar (21). In May 2009, Baxter was one of six pharmaceutical manufacturers that agreed to pay a whopping $89m in fines to the state of Alabama (21). In February this year Baxter paid out $1.1m to Wisconsin (23,24) after they tried unsuccessfully to weasel their way out of court proceedings by arrogantly claiming 'Baxter is not subject to personal jurisdiction in Wisconsin.' The court document states "this is an evasive motion that merely plays games with Wisconsin and with the Court. However, as of this writing, Baxter has neither agreed nor refused to agree to such a stipulation. So this unnecessary motion merely adds to this Court's pile of work…In short, Baxter's motion to dismiss is a shell game. Baxter belongs in this lawsuit, whether through Baxter International or through the appropriate subsidiaries…Of course, in the alternative, Baxter might spare everyone this game of hide-and seek by executing an appropriate stipulation." (24).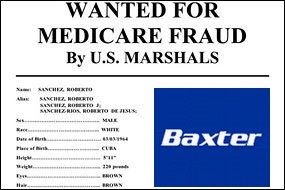 Wanted: Repeat Offender
In Alaska, Baxter agreed to pay compensation to settle a court claim for yet more smoke and mirrors (25). The company is also facing court action in Mississippi and the State of Kentucky recently successfully sued Baxter for $2 million after the drugmaker inflated their prices by a whopping 1300% (26). Jack Conway, the Kentucky Attorney General, said: "All of this could have been easily avoided if Baxter… had done what the law requires: report truthful prices." (26). Illinois has also recovered $6.8m from Baxter and the greenbacks from Illinois Attorney General Lisa Madigan's settlement have been deposited into the State of Illinois' General Revenue Fund for use in paying Medicaid bills for Illinois' neediest patients. "This is the second settlement this month with a drug company that has engaged in unfair conduct," said Madigan. "I am pleased that these two settlements alone have recovered $14 million in revenue for the State of Illinois." (27). In total Baxter have been named as defendants in over a dozen state cases alleging AWP fraud with the Attorney General of Pennsylvania recently slapping a $13 million fine on Baxter after they and other narcotics giants swindled $2,360,996 from the Pennsylvania Department of Public Welfare; $1,920,048 from PACE (the Pharmaceutical Assistance Contract for the Elderly, run by the Pennsylvania Department of Aging); and $959,753 from PEBTF (the Pennsylvania Employees Benefit Trust Fund (28,29). In Louisiana Baxter billed Medicaid $928 for $1.71 worth of saline solution — a 54,000% mark-up — for more than 10 years before a Louisiana state lawsuit caught the deception last year (30,31). Baxter also charged the same amount for sugar water — dextrose solution, an intravenous medication used to treat hypoglycemia. Cost to the company was just $2.25 wholesale, and so, a 41,000% mark-up!!! (32). It worked because the companies exploited a statute that shuts out Medicaid and Medicare programs from finding out the true market price of medications. The law also prevents health insurance agencies from negotiating lower drug prices and mandates they must accept the wholesale price reported to them. "The defendants' fraudulent pricing and marketing of their prescription drugs have impacted elderly, disabled and poor Louisiana citizens covered by the state's Medicaid program, by causing the [agency] to pay grossly excessive prices," the complaint states (32). It accused Baxter officers, directors, agents, employees and representatives of authorizing and carrying out the deception (32). 'Each family of Defendants in this case has been sued for the same or similar Medicaid drug pricing fraud scheme in one or more of at least twenty other states.' (32)
California sued 39 drug cartels including Baxter last year, accusing them of cheating the state of hundreds of millions of dollars by fleecing Medi-Cal for medicines (33,34). Attorney General Bill Lockyer charged that the drug makers swindled the state's Medi-Cal system for at least the past decade. Mr. Lockyer said the drug manufacturers charged Medi-Cal as much as 10 times the price for some drugs as they charged others, like private pharmacies and hospitals. Medi-Cal is the state's version of the federal Medicaid program for the poor, which is jointly financed by the states and the federal government. Drug costs account for about $4 billion of Medi-Cal's $34 billion annual budget.
"We're dragging these drug companies into the court of law because they're gouging the public on basic life necessities," Mr. Lockyer said at a news conference. "This scheme has cost California taxpayers potentially hundreds of millions of dollars and is jeopardizing the public health by diverting money away from patient care." (33). In scenes reminiscent of 'Hawaii Five-O' Baxter were fined $400,000 after they overcharged The Aloha State nearly 500% for basic meds (35-37). "Hawaii's Medicaid program and Medicare consumers have been overcharged by the drug companies' use of a pervasive scheme to manipulate the average wholesale prices," Hawaii's AG Mark Bennett revealed. "We believe that this scheme is deceptive and illegal and has cost the state government and Medicare consumers millions of dollars.. (37). 'Hawaii's senior citizens and residents with disabilities who participate in the Medicare program have also paid substantially higher prices for their prescription drug co-payments," the rap sheet reads (37). Book 'em Bennett!
FDA top-gun Mary Malarkey also took time out of harassing homeopathists and hounding herbalists to warn Parkinson's nefarious company that "we are very concerned by your continued violative promotion of your products…these claims are misleading…We request that Baxter immediately cease the dissemination of violative promotional materials for Aralast NP…since we have cited you for similar violations in the recent past." (7). Feeling the slightest tinge of shame yet Markey?
Caremark, Baxter's home-infusion subsidiary, was one of the companies involved in an extensive wave of fraud which occurred during the late 1980s and early 1990s (38). It was accused of paying kickbacks to doctors (38). In 1995 Caremark paid, at the time, the third highest ever criminal settlement in US history of $161 million (39). Baxter had however ditched Caremark in 1992, dodging any publicity (40). A $3.3 billion lawsuit was filed against Caremark by 23 healthcare insurers in the U.S. District Court in Chicago (40).
In January 2004 Caremark received Civil Investigative Demands from the Office of the State of Washington Attorney General 'seeking information, pursuant to consumer protection statutes, relating to business practices conducted by Caremark Rx, Inc., & Caremark Inc. separately, as pharmacy benefit managers…that Attorneys General in 18 other states also will issue civil investigative demands, or administrative subpoenas…administrative subpoena focuses on "consumer protection statutes and business practices relating to Caremark" (40,41). As of my finger poised on the print button, Baxter is already a defendant in six civil lawsuits seeking damages from the company and, in a filing with the US Securities and Exchange Commission, it warned that it may face more lawsuits and claims in the United States and elsewhere (42,43).
Big Pharma ~ Big Fraud!!!
These aren't just mistakes or misinterpretations that could happen to anyone. Big Pharma goes out of its way to steal from the government and pickpocket the people. The feds have recovered $9 billion from all companies – including defence contractors – who filed false reimbursement claims with the government in the last two years. Of that, more than $5 billion came from healthcare fraud (44). Since 1986, the US Department of Justice has recovered a staggering $27 billion (44). Drug company execs even have a nickname for the AWP system: "Ain't What's Paid" "It took us 12 years – to the end of fiscal year 1998 – to recover $2 billion in civil fraud cases brought under the whistleblower provisions," said Acting Assistant Attorney General David W. Ogden for the Civil Division. "We have reached the $3 billion mark just 16 months later." (44).
In the 'OMFG moment of the century', in 2009 Baxter International Inc. were caught shipping live avian flu viruses mixed with vaccine material to medical distributors in 18 countries (45). The "mistake", if you can call it that, was discovered by alert workers in a lab in Austria. The World Health Organization was alerted and panic spread throughout the vaccine community as health experts asked the obvious question: How could this have happened? Seasonal flu vaccines manufactured by Baxter International had .accidentally. been contaminated with the deadly avian flu virus called H5N1 (45).
The fact that Baxter mixed the deadly H5N1 virus with a mix of H3N2 seasonal flu viruses is the smoking gun. The contaminated vaccine was shipped to numerous distributors in Austria, Germany, Slovenia, and the Czech Republic. Not by bioterrorist commandos, but by Baxter!!! (45). The contamination came to light when the subcontractor in the Czech Republic inoculated some unsuspecting ferrets with the Kool-aid. The poor ferrets then promptly kicked the bucket. Ferrets shouldn't die from exposure to human H3N2 flu viruses. .It was live,. Baxter Spokesman Christopher Bona fessed up in an email (46). How could Baxter have let this happen? Was it intentional as some people believe? Even the respected Dr. Mercola has his suspicions.
A pandemic would certainly trigger a worldwide demand for the avian flu vaccine. Baxter, eager to get the ball rolling, had actually filed a patent a year prior describing a method to produce vaccines in multiple species using "several different antigens such as influenza A and influenza B in particular selected from of one or more of the human H1N1, H2N2, H3N2, H5N1, H7N7, H1N2, H9N2, H7N2, H7N3, H10N7 subtypes, of the pig flu H1N1, H1N2, H3N1 and H3N2 subtypes, of the dog or horse flu H7N7, H3N8 subtypes or of the avian H5N1, H7N2, H1N7, H7N3, H13N6, H5N9, H11N6, H3N8… You get the idea. (US patent: US 2009/0060950) (47). Convenient or what!

US Patent Application Publication Pub. No. 2009/0060950 A1 (47)
If a pandemic occurred…well, you can do the sums in terms of profits to be made. Good news for BAX:NYSE shareholders, not so good for everyone else. The other possibility is that Baxter was not following its own stringent biosafety protocol to prevent cross-contamination of infectious materials. This protocol, called Biosafety Level 3 (BSL3), if followed, makes it virtually impossible for a situation like this to occur. People familiar with biosecurity rules are dismayed by evidence that human H3N2 and avian H5N1 viruses somehow co-mingled in the Orth-Donau facility.
That is a dangerous practice that should not be allowed to happen, a number of experts insisted. Such monumental screw-ups are totally impossible at that level. Many safety systems would have needed to be sabotaged, many key personnel would have needed to be bribed. It simply can't be done without direction from the inside. They did not send out the wrong vial – they produced dozens of gallons of biological-weapon agent (genetically engineered live H5N1 / Bird flu virus), then sent it out as a 'vaccine' (44). On June 10, respected Austrian journalist Jane Burgermeister filed sweeping criminal charges with the FBI in addition to earlier ones on April 8 with the Vienna State Prosecutor's Office against Baxter AG, Baxter International and Avir Green Hill Biotechnology AG, "for manufacturing, disseminating, and releasing a biological weapon of mass destruction on Austrian soil between December 2008 and February 2009 with the intention of causing a global bird flu pandemic virus and of intending to profit from that same pandemic in an act that violates laws on international organised crime and genocide." (48).
By combining human influenza H3N2 with bird flu H5N1 virus in its BSL-3 lab, "Baxter produced a highly dangerous biological weapon with a 63% mortality rate. The H5N1 virus is restricted in its human-to-human transmissibility, especially because it is less airborne." However, when combined with seasonal flu viruses which are easily transmitted by air, a new hybrid flu virus is created which is unknown to the human immune system and which will have a severe impact on an unprotected population. A deadly virus of this kind could spread around the world in a short time and infect millions and even billions of people." Baxter (via Avir) "distributed 72 kilos of contaminated live bird flu vaccines using false concealment and false labels to 16 laboratories in Austria and other countries at the end of January/beginning of February, potentially infecting at least 36-37 laboratory staff, who (were) treated preventively for bird flu and ordinary flu." (40,48).
As Medical Director of the Natural Solutions Foundation, Dr. Rima Laibow warns about dangerous, toxic drugs and vaccines. On March 6, 2009, she posted a "Pandemic Flu Emergency Action eAlert on her healthfreedomusa.org web site stating: "World media, outside America, are reporting that Baxter Pharmaceuticals has admitted that it 'accidently' contaminated various vaccine batches with Avian Flu viruses. These batches were shipped to 18 countries. Clearly, either stupidity and incompetence (are to blame) or intentional contamination of flu vaccine lots was at work." Laibow sees a "manipulated disaster of unprecedented magnitude precipitated by unprecedented avarice and greed," and adds that "Baxter International Inc. is no stranger to recalls and lethal contaminations. Its record includes producing faulty infusion and volumetric pumps, HIV-2 tainted Albumin Buminate 5 percent, faulty dialysis machine tubing and blood-cleaning filters, and various other products that should make everyone leery of its soon-to-be-released Swine Flu vaccine.. (49).
It seems it's either 'Baxter's Way' or the highway!
But surely someone inside the lab had a bit of decency and tried to blow the whistle on Baxter's sinister plan for mankind? An Israeli Professor named Moshe Bar-Joseph, a microbiologist who once worked for Mossad, whom mainstream news outlets wanted us to believe was a nutcase and a terrorist, was arrested for threatening to bomb the White House. An amazing fact about his arrest, 'the Westwood standoff', was that he seemed to be immune to the 5 cans of tear gas and 5 gallons of law-enforcement grade pepper spray they pumped into his face. Utilising his Mossad training he very calmly remained in his car, as the video footage of his arrest shows (50).
Professor Moshe had called into a live radio show by Dr. A. True Ott, broadcast on Republic Broadcasting claiming to be a microbiologist who wanted to supply evidence to a States Attorney regarding tainted H1N1 Swine flu vaccines being produced by Baxter BioPharma Solutions. He said that Baxter's Ukrainian lab was in fact producing a bioweapon disguised as a vaccine. He claimed that 'the vaccine contained an adjuvant (additive) designed to weaken the immune system, and replicated RNA from the virus responsible for the 1918 pandemic Spanish flu, causing global sickness and mass death.' Sources, and common sense tell us that Bar-Joseph made no threat against the President or the White House. He did not mention any bomb or attack. He then proceeded to inform the White House he intended to go public with this information. When he noticed men in suits in front of his house and feared that the FBI was about to detain him, he packed some belongings into his car and, him being a dual Israeli citizen, tried to reach the Israeli consulate located in close proximity to the federal building where the standoff took place. The FBI and the bomb squad prevented him from reaching it.
So who is this man? Some conspiracy loon? His extensive profile on biomedexperts.com says he is a distinguished plant disease expert with extensive peer-reviewed publications to his name involving the genetic manipulation of virii (51). Photographic evidence that Moshe is who he says he is can be found here (52). The amazing part about Moshe's claim was the location where Moshe said the biological weapon was being produced. Moshe claimed that Baxter's laboratory in the Ukraine of all places was creating this biological weapon. All of this came out in the beginning of August, which was more than 2 months before the contaminated vaccine narrowly missed the fan.
For Moshe to correctly name the country where a new epidemic would be unleashed, requires either inside information, or an incredible coincidence as anyone with a basic knowledge of statistics can confirm. Nothing has been seen or heard from the poor guy since. This page with Baxter's contact information for its Ukraine office confirms that Baxter has a presence in the Ukraine (53). The fact that this man managed to predict an outbreak of highly lethal influenza in a place where we would least expect it, 2 months before it actually occurred, lends credence to his claim that Baxter International is responsible for the outbreak and shows that top microbiologists can pose a problem to the people running the show. In the last 4 years exactly 81 microbiologists and scientists have met violent or suspicious deaths (54). That's right, count them-81.
There should be an investigation into Baxter's contamination of 72 kilos of vaccine material supplied by the World Health Organization (WHO). But who will investigate the WHO?Quacks from Baxter, Novartis and GlaxoSmithKline sit on the World Health Organization's vaccine advisory board that recommends millions roll up their sleeves every year (55-60). A look at the advisory board of the World Health Organisation's Strategic Advisory Group of Experts (SAGE) on Immunization reveals a who's who in the drug world, with kingpins Dr. Neil Ferguson, Professor Malik Peiris, Dr. Arnold Monto and 'Dr Flu' Prof. Albert Osterhaus all receiving funding from Baxter and other such notable characters as Novartis, Pfizer, Sanofi-Pasteur, Roche and Merck, Sharpe & Dohme while Professor Maria Zambon at the UK Health Protection Agency Centre for Infection has also pocketed a few shillings from Sanofi, Novartis, CSL, Baxter and GSK (48). There is also something noteworthy about the fact that in 2008 the WHO had changed its definition of pandemic (61).The old definition was a new virus, which went around quickly, for which you didn't have immunity, and which created a high morbidity and mortality rate. Now the last two have been dropped, and that's how swine flu has been categorized as a pandemic.
Conveniently enough, the WHO published the new Pandemic definition in April 2009 just in time to allow WHO, on advice of SAGE and others like Albert "Dr Flu" Osterhaus and David Salisbury, to declare the mild cases of flu dubbed H1N1 Influenza A to be declared Pandemic Emergency (62). Even more, the meetings of the 'independent' scientists of SAGE are attended by 'observers' who include the very vaccine producers GlaxoSmithKline, Novartis, Baxter et al. (61,62). One might ask why if SAGE are supposed to be the world's leading experts on flu and vaccines, why they would ask the vaccine makers to sit in. Answers on a postcard.
The WHO and public health officials, virologists and the pharmaceutical companies were onto a nice little money spinner. And there was a lot of money involved, and influence, and careers, and entire institutions! And all it took was one of these influenza viruses to mutate to start the machine grinding and the cash rolling into Baxter's greasy tills. Ker-CHING!!!!
Should a company that was so careless in handling an infectious agent that nearly killed billions of people be allowed to remain in business? Baxter knew full well that their vaccine was lethal, because the year before a similar vaccine was tested on a few hundred homeless Polish people – dozens died as a result (63). The human race can't afford mistakes of this magnitude. Criminal Acts should bring Criminal Charges! (64). Not surprisingly, Baxter has said little on the subject.
Christopher Bona, Baxter's Director of Global Bioscience Communications said the cross-contamination occurred as "the result of a combination of just the process itself, (and) technical and human error in this procedure." He declined to say more because he did .not want to reveal proprietary secrets about their production process. (65). Proprietary bullshit more like!!! (If anyone wants to steal that kind of production process, they should roll up their sleeve and get first in line for one of Baxter's contaminated vaccines). The Big Pharma fiends learned from the 1976 Swine Flu vaccination victims` hard won court victories that vaccine manufactures need to be legally exempt from liability during a declared pandemic. The UK & Irish governments have been forced to accept legal liability for the swine flu vaccine amid concerns it could trigger life-threatening side-effects among the population at large. Ministers have taken on all the risk for the 60 million doses they have ordered from GlaxoSmithKline and Baxter, after both firms said they would refuse to produce it unless legally protected (66). Insurance companies won`t touch them!